Cold Storage Humidification System consists of humidifiers established to extend the life of food products and to provide hygienic conditions. Cold storage is where the temperature and relative humidity are kept constant and under control. Disruption of the temperature and humidity balance in these warehouses can lead to great costs. Therefore, they should be equipped with humidification system.
Cold Storage Humidification System creates a more humid and stable humidity area with water particles smaller than 10 μm through the oscillator. In this way, the air is humidified by increasing the humidity level. It has a compact appearance with its digital control screen and stainless steel case. It provides ease of use with automatic water level control. Besides the low noise level of the humidifier and the electronic control system, it has a high humidity capacity.
What is A Cold Storage Humidification System?
Cold storage is one of the most important stages in the food supply chain. In order for the food to be delivered to the consumer fresh and hygienically, it must be stored in the most suitable climatic conditions. In order to achieve this, it is essential to use cold storage humidification system. Humidity control in cold rooms provides many benefits.
Foods are hygroscopic products that attract moisture. Foods are highly affected by temperature and humidity levels. Cold storage stores these products in a stable climatic condition. With air conditioning devices and humidification system,  the determined temperature and humidity levels in the cold room are kept constant and under control. Insulated equipment such as cold storage doors and cold storage panels is used to prevent air leakage.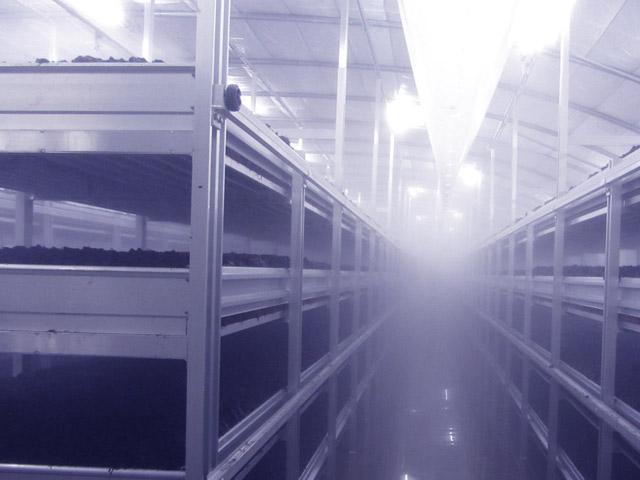 Where is the Cold Storage Humidification System Used?
The use of humidification system for cold rooms is common today with the development of technology. Humidification system is of great importance in regulating the temperature and light for humidifying warehouses. The Humidification System can be used in many places within the scope of its features.
Cold storages
Greenhouses
Botanical gardens
Textile workshops
Server rooms
Indoor areas where paper is produced
Indoor areas where tobacco is produced
Laboratories
Indoor areas for offset printing
Paint booths
Museums
What Does a Cold Room Humidification System Do?
The cold room humidification system keeps the humidity level constant by spraying micro water particles into the air. An increase in temperature in food warehouses causes the products to attract more moisture, which will lead to a loss of value such as weight loss, shelf life, and product quality. The following are the benefits of cold storage humidification system:
Increasing product quality by keeping the ideal humidity level constant
Preserving the freshness of products
Preventing loss of earnings by preserving the weight values of the products.
Ensuring that the products do not lose their freshness and decrease shelf life
Preventing moisture loss
As Teknotek Cooling, we produce cold storage. You can contact us for cold storage solutions where you can store your products in the best conditions through the humidification system, cold storage doors, cold storage panels, and cooling devices.