The Blast Freezer is one of our most important cooling systems for long-term storage and preservation of a product in a cold environment. The cold storage life of a food starts as soon as it enters into the blast freezer.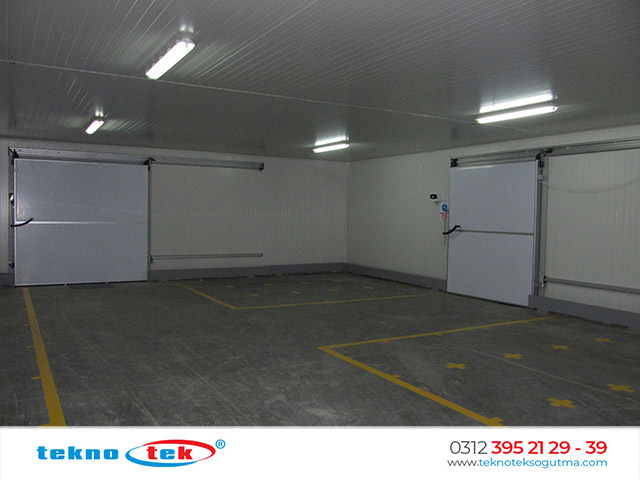 The shorter time it takes to cool the product and reach the appropriate storage temperature, the longer the product is stored in a long-lasting and healthy way. You should not choose storage rooms to complete the necessary requirements but choose shocking rooms for rapid cooling. Because, the cold storage room is designed to prevent heat from the outside and to protect the heat inside, while the blast freezer room aims to cool the food as fast as possible.
The Blast Freezer Room freezes the product to be protected quickly. There is water in the food and Blast Freezer freezes the water activity in the food. Thus, spoilage and decay of the products are prevented. The reason for the rapid freezing is to prevent the bacteria found before they begin to form. The heat drawn below -25 ° C causes the destruction of the bacteria naturally. After this process, it can be taken to temperatures between 18 and 25 ° C.
For food safety, the products to be stored for a long time should be shocked to the core temperature -18 ° C and then taken to blast freezer room.
The process of Blast Freeze Room is to pass cold air (-35 ° C – 40 ° C) at high speed (5 m / s) over the product and allow the product to freeze from the outer layer to the core starting
Shocking should be done as quickly as possible.
Depending on the product, maximum durations must be taken into account for food safety. The thickness of the product affects the duration of the shock.
The air flow rate affects the shock time.
The features of Blast Freezer Room (-40 ° C)
air-cooled condenser with semi-hermetic or screw compressor
The device has a remote-control panel.
It is cased to weather conditions.
The indoor and outdoor units are delivered with nitrogen charge.
It is shipped ready for installation with electrical panel and all automatic control elements.
Steel galvanized cabinet with electrostatic paint
The design of high efficiency evaporator is made suited to
The different types of evaporators which are floor and ceiling are available according to the needs.
Factors such as type and quantity of product to be shocked, entry and exit temperatures, shock duration, geographical region, and so on must be determined and combined well to establish the right system. As Teknotek Cooling Systems, we are at your service with our most useful, economical and ergonomic blast freezer room prepared for you.