Humidification systems are devices that are used to adjust the humidity in closed areas and turn the water into a suitable atmosphere. As it is known, considering the storage conditions, each product needs a different humidity. The systems we have established create a humidity rate keeping the products fresh.
Humidification systems begin to humidify after installation and keep the humidity level constant as long as it operates. After setting this level, you do not need to make any change in the device setting again. The device automatically keeps the moisture level stable.
Properties of Humidification Systems
One of the main elements of protecting products in confined spaces is humidification. Moisture plays an important role in ensuring the hygiene and keeping the temperature of the area at a certain level.
The system has the principle of working in different ways to humidify the dry air. The first is to pass air through a water tank; Another method is to spray water into the air through thin holes. Ultrasonic Humidification Device sprays water particles smaller than 10 µm into the air. In this way, a high level of humid environment is obtained.
Balancing the humidity in the air is not only necessary for the protection of the products, but also for the people in the environment to work comfortabl. So, the humidity should be at the required level.
[contact-form-7 id="4310″]
Request a Quote Now!
You can contact us for detailed information about humidification devices and other products. By filling out the contact form on the side, you can request us to make a size feedback about the price proposal and the project process.
Teknotek Cooling is with me 24/7 after installing your system with its experienced staff! In any case using our technical service.
Cold stores, in particular, are chilled volumes that operate 24 hours a day and precious products are stored in these volumes. Tekno-tek has a strong staff and a car park as it can provide healthy service to your cold warehouses.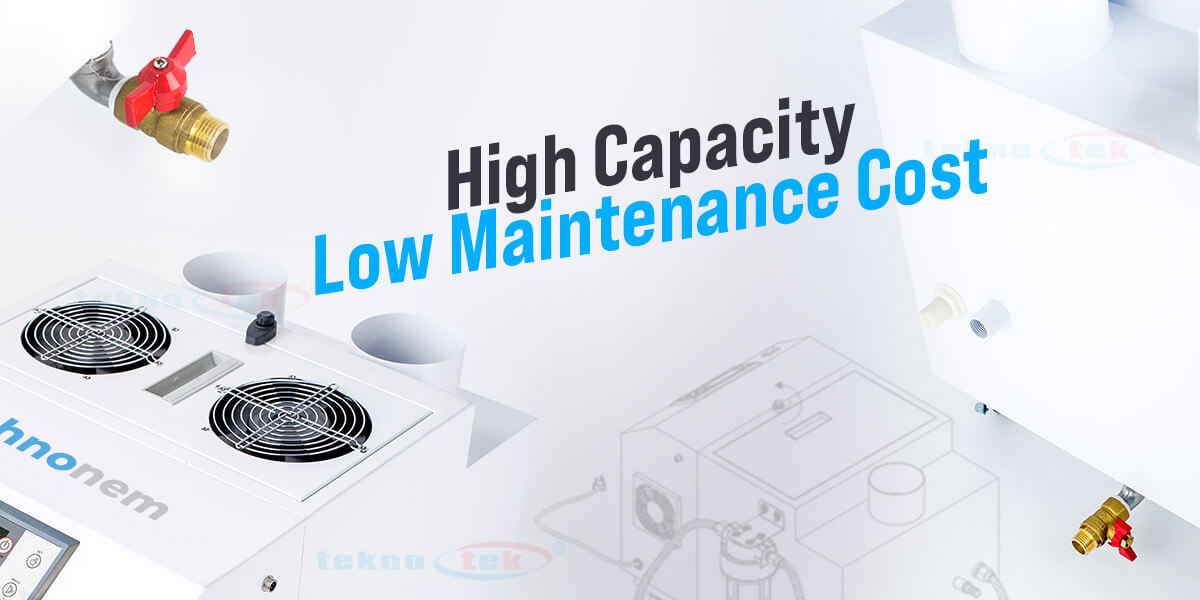 Operating Properties of Humidification Systems
The system lowers costs on water and electricity consumption, so it is very economical. The way this system works is as follows:
The industrial humidification system can work for a long time without stopping.
High pressure humidification system operates at 70 bar pressure.
If the humidity level is low, the system starts automatically without any intervention.
The humidification system does not heat the area it is on, but provides coolness.
Where are Humidification Systems Used?
Humidification systems, which have a wide range of applications, are used in some industries as well as companies producing food, such as:
Mushroom production facilities
Cold rooms
Wine distillation cellars
Textile industry
Paint shops
Computer rooms
Germination room
Botanical garden
Air conditioning systems
Enzyme processing plants
Food stores
Electronic material manufacturing facilities
Dust filtration
Odor filtration
Spinning industry
Printing House and paper humidification areas
In all these areas, the humidification process is divided into parts smaller than 10 microns with pressurized water and nozzles. It is also given to the environment with pneumatic and water connections. Humidity can be adjusted to desired levels with the monitoring and control box. Since the system reduces the size of the water particles below 10 microns in people's environment, it provides relief without feeling wet.
Check Out Our Ultrasonic Humidification Solutions
Elements Forming Humidification Systems
Humidification systems are a device that consists of:
Wheel for ease of transport,
Electric cable, electrical box and lock,
Emergency stop button
Control Board
Cover fixing lock
Tank protection cover
Line to get moisture out of air
Water filter, fan and hoses
The electricity consumption and weight of our devices vary according to the capacity of the water tank.
Teknotek humidification devices can be 3, 6, 9, 12 liters, and electricity consumption varies between 300 W and 1200 W.
With the electronic control unit, follow-up and control functions are performed.
With the electronic control unit, micro nebulizer / fogging is used by opening and closing the selonoid valves in accordance with the capacitive probes and the set criteria.
Prices of Humidification Systems
Humidification systems have many benefits. The system uses non-demineralized waters. There is no condensation. The system can be easily and quickly maintained and installed. The most important feature is that it is durable for a long time.
With the help of oscillator, TEKNOTEK Ultrasonic Humidifier releases water particles smaller than 10 μm to the air in order to increase the ambient humidity by creating a more balanced humidity area. It is compact with its stainless steel case and digital control screen. Its automatic water level control provides ease of use. It stands out with its low noise level, electronically controlled system and high humidity capacity.
Digital Control Led Display
25% – 95% Humidity Control
Automatic Water Level Alert
Stainless Steel Water Tank
8,000 Hours Life of Oscillator
Automatic Water Filling
Low Maintenance Cost
The prices of the systems vary according to the tank capacity. You can contact us for detailed information.
Review Technical Drawings and Dimensions
Considerations When Using Humidification System
When using the humidification system, it is necessary to pay attention to some points.
Before using the device, suitable filtering equipment should be installed to prevent the water tank from getting dirty.
The water in the water tank should be changed every 3 days for the first 10 days of use. After 10 days of use, it should be changed every 15 days.
The water tank should be cleaned once a month as standard. After the electrical connection is disconnected, this process should be repeated with a soft cloth or towel.