Industrial Cold Storage Panel; Cold rooms and storages are fast and practical solutions for your healthy, safe and modern storage facilities without losing the features of the product to be stored. Cold storages are produced in project applications, desired dimensions, and specifications. Wall – Ceiling – Floor Panels 60-80-100-120-150-200 mm thickness of 1000-1114 mm width and optionally from 500 mm to 12,000 mm can be produced up to the paint. The panels are injected with polyurethane hard foam having a density of 42 kg / m3 between the surfaces.
Panel design is connected to each other by special eccentric lock system. This feature allows to move to different places within the enterprise and to enlarge the additional cold storage.
Technical Specifications
Lock Details :  Panel and wall panels are double interlocked and lock is connected to each other.


Panel Details :

Industrial Panel |     Ground Detection Accessory |                     Hilvenik Accessory
Ceiling Panel Hanger Details :


Panel Assembly Details :
Panel Assembly Details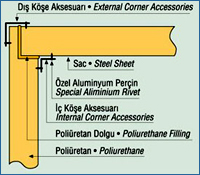 – Panel Construction Type Ground Combination


– Special Features for Panel Construction Type Ground Composition / Wet-Floor Enterprises


Panel System Details :


Please contact us for detailed information. Teknotek Refrigerator …
Photo Gallery